Most media outlets and politicians often ignore the deadly consequences of US regime change policy, including the rise of Islamic State, according to Representative Tulsi Gabbard (D-Hawaii).
I think that there has been a concerted effort both on the part of some in the media, as well as many in politics, and many in our foreign policy establishment seem to have been advocating for a continuance of these regime change wars, really ignoring the fact of what has been the consequence of these wars in countries like Iraq and Libya and Syria, where each time we have waged these wars, [it] has resulted in the strengthening of terrorist groups like Al-Qaeda or the creation of ISIS [Islamic State, IS, formerly ISIL], and it has resulted in a tremendous amount of suffering and death for the people of these countries," said Gabbard at a press conference, answering a question from RT's Caleb Maupin.
Gabbard's remarks come as the Hawaiian representative, who is a former Iraq war veteran herself, tries to build support for the Stop Arming Terrorists Act that she introduced in Congress in January of this year. The bill would prohibit the US from backing armed factions linked to terrorist groups such as IS, Al-Qaeda, and the Al-Nusra Front. It is based on legislation from the 1980s that aimed to stop the CIA from illegally arming the Contra rebels during Nicaragua's civil war.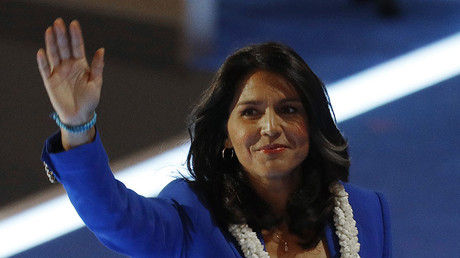 "We must stop this madness," Gabbard said speaking before Congress back in December, stressing, "We must stop arming terrorists."
The bill has only been supported by 14 other lawmakers so far, however – six Democrats and eight Republicans. A companion bill has also been put forward in the Senate by Republican Rand Paul of Kentucky.
In January, Gabbard set out on a fact-finding mission in Syria, where she visited Damascus and Aleppo. While there, she met with Syrian students, entrepreneurs, academics, aid workers, religious leaders and members of the opposition. She said some of them told her they felt that the originally peaceful anti-government protests in 2011 were hijacked by jihadists "funded and supported by Saudi Arabia, Turkey, Qatar, the United States."
"Their message to the American people was powerful and consistent: There is no difference between 'moderate' rebels and Al-Qaeda (Al-Nusra) or ISIS — they are all the same," Gabbard wrote in a blog post, describing the essence of the Syrian conflict as "a war between terrorists under the command of groups like ISIS and Al-Qaeda and the Syrian government."